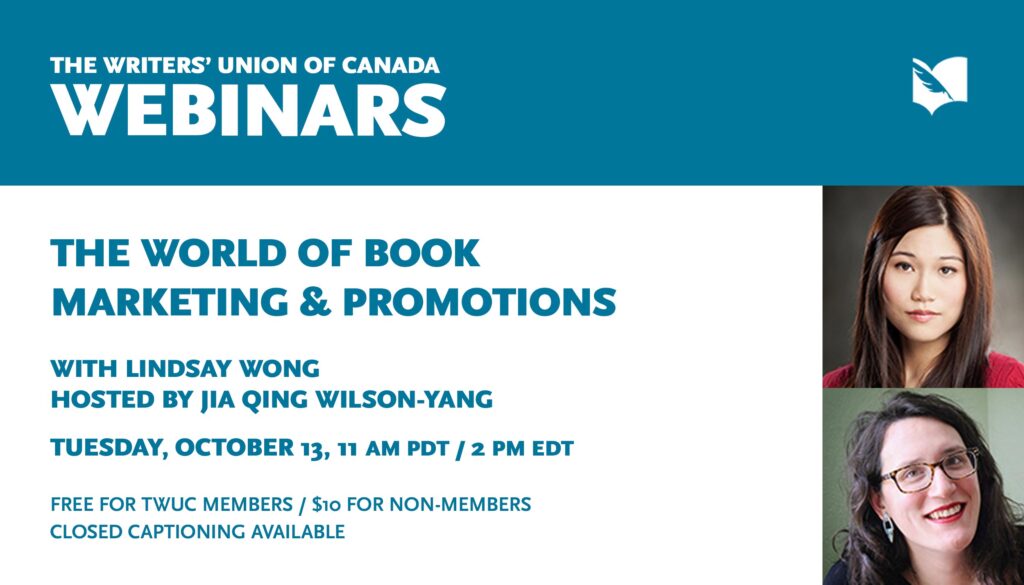 Thanks so much to everyone for coming to our webinar on The World of Book Marketing & Promotions. It was so nice to connect with you all! If you missed the presentation, TWUC Members have free access to recordings.
As promised, here is my interview with Beth Parker, who is a freelance publicist based in New York City. I really enjoyed working with Beth (who is wonderfully communicative and supportive, and just loves her work with authors). For those of you who were asking about finding a stellar American publicist, Beth is someone that I'd love to work with again!
Also: one thing that I didn't mention in my presentation, but Canadian writer friends, please make sure to factor in the exchange rate when budgeting/saving up funds.
LW: Why should authors hire an external book publicist? And should Canadians find a NYC based publicist if they want American coverage? (i.e. is location important, as some Canadian PR firms also cover the US). 
BP: Everyone has different reasons for hiring an outside publicist. Some of the main reasons include wanting a specialist (ie you have a business book and you want a specialist who really knows the contacts in that world. You may want "all hands on deck" to make sure that your in house publicist and freelancer are working hand in hand to cover all PR bases – divide and conquer. Or you may feel that the in house team just doesn't have the contacts that a freelancer might have. All of these are valid reasons to want to hire someone. I also know a few authors who had less than desirable experiences with an in house publicist and just want to make sure they're doing everything they can to give their next book the best chance possible to rise to the top.
As for location, I don't think being in NYC should be a requirement, I know fabulous freelancers in North Carolina, Philadelphia, Minneapolis, Boston and Los Angeles. Many of them lived in NYC at one point when they were in-house, but location doesn't mean that much (and with all of us being remote right now, it means even less!) I would focus less on where the publicist is located, and more on the kinds of books they represent and the coverage they secure. Try to find a publicist that will match your book: if your book is literary fiction, approach publicists that focus on that. If your book is a thriller, see who is representing those kinds of books.
LW: What can an external publicist do that an in-house publicist can't?
BP: Usually a freelance publicist has fewer projects than an in house publicist does, so there is more opportunity to focus on the project and give it as much attention as it needs in terms of pitching, research, guidance, etc. Many of us have the same contacts, but relationships with the media can vary, and as mentioned above, sometimes someone who specializes  in a certain genre might be helpful.
LW: How much does a book campaign typically cost? And how much should writers budget?
BP: Prices can vary wildly, depending on what you want: a full court, the freelance publicist does the entire campaign can be $15,000 and more. Some publicists offer a la carte options that can be a few thousand dollars, where you have very specific goals (place an essay/op/ed or just pitch radio or podcasts). The most important thing is planning ahead: many of the "best" freelance publicists book up 6 months to a year or more in advance of the on sale date.
LW: Words of advice for choosing a publicist? Where can we find Beth Parker online?
BP: Do your research! (see above re: finding publicists who work on certain kinds of books).  And interview a few publicists: it's ultimately a very personal decision, and can be a lot of money for some authors, so make sure you're investing well. Your publicist will likely be in daily contact with you in the months leading up to on sale, so you want to make sure it's someone you want to talk to and collaborate with! (And be nice to your publicist! They work very hard for results that are by no means a guarantee!)
You can find me at: www.bethparkerpr.com
Twitter: @beth_parker